You were FANTASTIC!!! I couldn't be happier with your perfect performance! I'm looking forward to working with you again 🙂 XO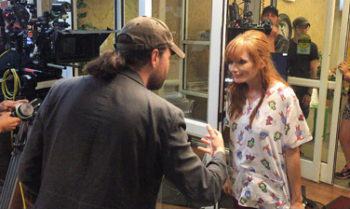 Adam Rifkin
The screenplay for Fade In, Fade Out had been written for close to 4 years. Being a deeply personal story, I was cautious on how it would be developed or if I would ever be produced for that matter. Then I saw Amy on screen and instantly knew she would be perfect for the role of Ashley. Looking back her acceptance of the role was the true catalyst of the project and I couldn't have been happier. She understood the heart of the character in a way that only she could have portrayed. Her talent, confidence and vulnerability pour over every frame. Courages, strong, humble, fearful so many layers to her performance and I truly appreciate the devotion and professionalism she brought to this film.
Marvin Aguado
It was great working with Amy as a cinematographer because she trusts. Never once did I feel I was being intrusive. Never once did she question what I was doing, because she trusted me. Thanks Amy, for letting go.
Michael Cuartas
Amy was a stellar addition to the production. She was prepared and diligent. A talented and photogenic companion to the camera, she also brought with her an arsenal of additional ideas to her scripts character…many of which we incorporated into the film. Amy is an incredible, professional actress. She took the work seriously, prepared diligently, and performed flawlessly. She was a solid asset in the production of this film, and I will work with her again.
Richard Roepnack
You always do good work! I love how you are so believable. You make the words your words and history. The thoughts in your eyes say it all–that is hard to do, and you do it brilliantly!
Jane Rumbaua
Amy I have seen your work and I am floored by your ability to draw the audience in. You are an amazing actor! Keep up the great work! Love watching you!
Andrea Conte
As the producer of the live action short film, All Wars End, I would like to take this opportunity to commend the talent we were so blessed with on the production of this important film about a US Marine and Post Traumatic Stress Disorder. One actor particularly made such a positive impression on me, that her talent is worth noting. Amy played a nurse in the film. Her role was written as the nurse who is startled when a 6-month coma patient wakes up while she is on duty and proceeds from that point. Not an easy task for the most talented of actors. Amy was perfect for the part. She came prepared to the set, played her part well and made positive suggestions. I personally enjoyed working with Amy. Besides being extremely talented, she is a total professional. All the qualities that a producer could want are a part of who she is. Besides being easy to work with (and easy to direct), she was always one time, always communicated and responded quickly in all matters. Besides wishing her well in her acting career, I wish her the best in all things that life has to offer. I would hire her again and again and again. She has such versatility as an actor. I know she could play any role given to her.
Felice Shekar
Amy is as giving as any actor I have ever worked with…her attention to detail is as focused as it is necessary in breathing life into each and every role she takes on. She challenges herself, breeding compelling characters and hosting tremendous range creating a certain magic along the way.
Mark Ashworth
As she paraded to our table outside that coffee shop she left a trail of stardust, starting at her old heap of a vehicle, glittering its way to our feet. My brother and I looked up at her, in all her red-headed glory, then at each other, for a silent and synchronized confirmation that this spritely little actress would be our belligerent, and not-so-little Mary. Method acting is one thing, but seamlessly switching from person to character is a whole other animal completely. An animal Amy Hoerler has exquisitely tamed. She is a keeper. Miles and miles in her rickety ride she traveled, for a chance to be in our film, but little did she know, we were waiting for a chance to make a film involving her. And there we were, in less than half an hour, conversing like old pals, knowing we would be a dynamic team. There we were, outside that coffee shop. Where I hope to be again.
Jonathan Cuartas
Amy is one of the most unique actors working in New York today. Her quirky style and engaging presence make her someone worth keeping your eyes on.
Edith O'Hara
Amy is an absolute joy to work with, a real professional and gifted woman with great versatility. On screen she's a rare combination of focus and vulnerability, as well as depth and range, highlighted by genuine energy and enthusiasm for the work and her ability do whatever is required for her character in a scene.
David Spaltro
Amy is very compelling on screen. The camera loves her. Amy's acting style is both courageous while at the same time, very human. That is a rare combination.
Alan Lebow
Amy is a wonderfully deep and versatile actress. She is personable, talented, and gives herself 110% to the work at hand, whether in preparing a role or delivering a performance when she's on set.
Grace Marlier
Amy is a talented actress who takes her work very seriously. She is professional, organized, and has great people-skills. I would recommend anyone to work with Amy.
Lisa Carlbom
I recently employed Amy to handle an important role in my motion picture Run Stinky Run, currently in post-production. I don't have sufficient words to express how impressed I was with her talent and professionalism. Although most of Amy's previous roles have been in serious dramas, our film is a comedy and Amy is one really funny person. I believe she was born to do comedy. In many ways, she reminds me of Goldie Hawn in her younger years. Whether its comedy or drama, I can highly recommend Amy because her involvement will add to the quality of any form of entertainment; film, television or stage.
Neil Golin
Subtle nuances. Most actors spend entire careers trying master the tilt of the head, the quiver of a lip, and the proper balance of emotions in their eyes. Amy can silently say more with her body and face in a split second than most actors can say while reading an entire side of script. This skill is what makes characters believable. Any casting person who doesn't cast Amy is truly missing the boat.
Lennie Varvarides
I met Amy at the auditions for Brighton Beach Memoirs. After watching her do two short cold-readings, I knew that we had found our Blanche. She had intuitively captured the essence of the character in just the audition, and we wisely cast her on the spot. Amy's greatest attribute as an actress is that she never accepts less than her very best. Her own toughest critic, she constantly works to refine the character and make it her own. She welcomes constructive critique, and in a time when too many actors want to hear own their praises, she holds herself to a higher standard and constantly seeks improvement. Her technical skills and artistic choices make her wise choice for both the big screen as well as the stage. Bravo!
Richie Lester
I loved working with you. I think you're a very unique actor and person; you're a 'revelation'.
Jan Leyssens
Amy has the thick skin that is necessary to listen and respond to director notes. She isn't afraid to take criticism and loves sweating with the crew on location.
Tommy Demos
What can I say about Amy that won't be an understatement? Amy is not only extremely gifted and talented at what she does but her beautiful spirit, energy and overall presence impacts whoever and wherever she comes across. She's an inspiration and pleasure for directors and actors alike. Entirely professional and she automatically boost the value of your project the minute she joins.
Frantzy Moreau
Working with Amy was a tremendous experience. What she had to do to prepare for this role was an extreme amount of work. The amount of homework that goes into something like that–you don't just show up on set and bring what she brought to that character [on working with Amy on Star Child].
Todd Bruno
It's difficult to find appropriate words to describe Amy Hoerler! She is an A-list actress in the waiting! When she is on-screen, your eyes are glued to her. She reminds me of Mia Farrow—she possesses this honesty and vulnerability that captivates the viewer! She is such an honest actress that you can't help but believe the circumstances she has created through her character. She is at once riveting and powerful and fragile. The best compliment you can give Amy—she's an actress in the truest sense of the word.
William Butland
We actually had to stop filming because of her. Let me explain. I was DP on a project where Amy was playing the lead. The sheer passion of Amy's acting while filming her character's suicide scene made me start to cry. She's an actor full of creative energy and passion. Get her if you can.
Christine Ka'aloa
Amy has such a wide range of ability. She can present strength and confidence just as well as playing the softest romantic. This is what makes a director's job much easier.
Cynthia Morrison
[Amy is] …talented, unique, and interesting… Jeff Barber
I was worried when I began casting the role of the depressed and aloof mother in Mother & Child; I wasn't sure I'd find anyone capable of playing this difficult role with a lot of emotional subtext yet very little dialogue or back story in a film with art cinema aspirations. From her very first audition, Amy assuaged my fears. She stood out among everyone else who auditioned. They all went for histrionics, but Amy, who is profoundly intuitive and immediately grasped the intent of my film, commanded my attention with her haunted, understated, and mysterious performance, revealing the depth of the character's inner world with just a single wounded glance, furtive gesture, or whispered word. Over the course of our rehearsals and filming, her performance only grew in complexity. Throughout the creative process, she was a joy to work with: always coming up with new ideas, eager for feedback, and extremely generous with her fellow actors. She has a presence that is perfect for the cinema!
Nicholas Collura
I worked with Amy when she was the lead actress in Can-Can and found her professionalism and commitment to quality work impressive. She has a friendly demeanor that lights up the room. You can't help but enjoy her company. A great actress with a beautiful heart…that is Amy.
Renee Beaulaurier